Support research to prevent Zika virus infections
Your donations support effective treatments critical to curtailing the Zika outbreak
Zika virus, a mosquito-borne flavivirus, is currently spreading across South America, Central America, and the Caribbean. By the end of 2016, the number of Zika cases is expected to exceed 2 million.
The Zika virus has been linked to microcephaly and other associated birth defects, and containment of the Zika virus has been proclaimed to be of great public health importance by the World Health Organization (WHO) and the Center for Disease Control (CDC). There are currently no approved vaccines, drugs or other therapeutics for treatment of infected individuals.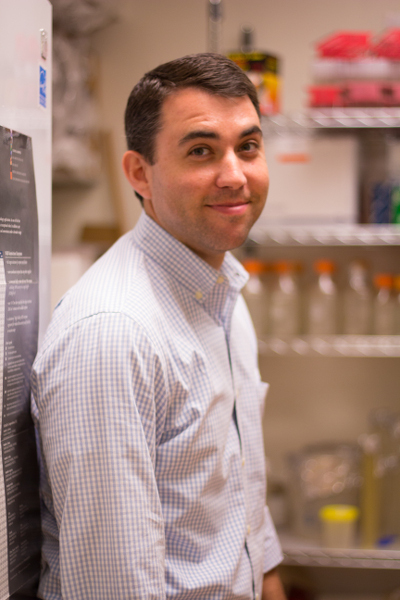 What if we had safe drugs that people could take to prevent Zika virus infections?

My name is Matthew Frieman, PhD (@newprof1) and my degree is in yeast genetics and cell biology. My laboratory at the University of Maryland School of Medicine has developed a yeast based screening platform to identify drugs that block virus growth. It has been successfully used for Influenza, SARS and Chikungunya. Given the significant public burden of Zika, identifying safe effective treatments is critical to curtailing the outbreak.
Using the awesome power of yeast genetics, we have a real and feasible way to rapidly identify drugs that could help in the Zika outbreak. We will focus on drugs currently approved by the Federal Drug Administration (FDA) and that are readily available at your local pharmacy. Because approved drugs have known dosing and safety records, this saves years and hundreds of millions of dollars in drug development costs.

If we can provide a drug to protect women from being infected in the first place, then we can reduce the birth defects in their babies.
How can you help?
Donations to this project will support the initial cloning and testing of Zika virus genes in yeast, the cost of screening the drug library, the testing of successful candidate drugs in cells against live virus and the publication of this work.
We are in a race against time during this global health crisis, and we need your help today!
The support we get from donors, like you, will allow for initial screening and testing of potential drugs against Zika virus.
Your gifts are truly appreciated!
Together We Can Make It Happen! Here's How:
Gene cloning and sequencing
$500
Screening of viral genes in yeast
$500
Drug screening with 14,400 compound library
$2,900
Testing if identified drugs block Zika virus growth in cells
$500
Publication of Zika virus drug paper
$1,000
$5,400
Supported by 2 Donations: